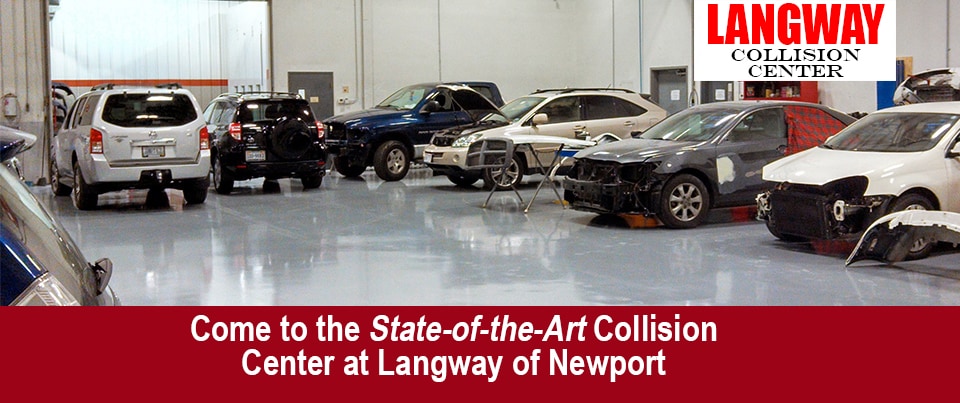 When you encounter problems on the road and find yourself in need of repairs, you can depend on the experts at the Collision Center at Langway Nissan of Newport. As the only certified collision centers in the area, we're capable of handling any repairs your need no matter what brand of car you drive. Not only do we provide the efficient service you've been looking for, our expert team is trained to handle your claim from start to finish providing you with a seamless experience, but we also offer our customers a lounge with Wi-Fi and refreshments to ensure you remain comfortable during your time with us. You can even monitor your vehicle's repair status, as complete transparency is something only our Langway Collision Center offers in southern Rhode Island. Additionally, we offer 24 hour towing and on-site rentals providing you with a smooth transition back to normal in case of an unfortunate accident. Whether your vehicle requires extensive body work or you need our keen eyes for an inspection, come visit our Nissan dealership in Middletown.

There's no need to stress too much about payment either, as we work closely with seven local direct pay insurance companies to guarantee a seamless process for our customers. If you happen to get bumped, scraped, or nudged on the road, there's no better place to bring your vehicle than to your only Certified Collision Center, Langway Nissan of Newport!
Here at Langway Nissan of Newport, we are proud to serve the auto-body repair needs of drivers from Narragansett, Newport, Warwick, and Fall River MA, with our very own on-site collision center. With us, there's no need to go off-site for collision repair, as is often the case with other dealerships with standard service centers. Our expertise is not limited to Nissan models, so even if you didn't purchase your vehicle from us, we are still happy to serve you.
Our facility boasts lots of state-of-the-art equipment, including new paint booths and frame alignment machines. We are among the top collision centers in the country for customer satisfaction, so you can be confident that your vehicle will receive the best care. Furthermore, we also try to price match our OEM parts with competitors' aftermarket parts. This way, you can save money and still enjoy the peace of mind that comes with knowing there are no problems with fit, finish, or durability.
If you'd like more information, don't hesitate to contact us at your convenience, or come visit us to speak with a representative in person. We'll be happy to assist you.